GMP rHu TNF-α
CellGenix

Brand:

1006-050

Cat No:

50μg

Size:
Add To Cart Quantity: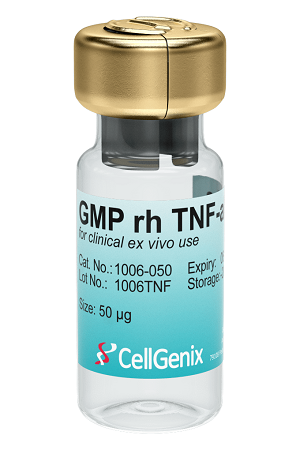 The choice of your cytokines will influence the result of your ex vivo cell culture substantially.
CellGenix®
GMP Cytokines combine a maximum of quality and safety with excellent performance due to our state-of-the art GMP production, quality control, and documentation systems.
The products are manufactured, tested and released in compliance with the relevant GMP guidelines. USP chapter <1043> has been considered in the design of these products.
CellGenix®
IL-4 is worldwide the first cytokine that complies with USP chapter <92>.
Description:
GMP rHu TNF-α,GMP Grade cytokines for Clinical Ex Vivo Use.
Advantages:
Regulatory Compliance
validated production and QC procedure
FDA drug master file cross reference available
animal-derived component free production in

E. coli

frequent facility audits by customers and authorities
Quality controls include
specific activity (WHO standard)
sterility (Ph. Eur.)
endotoxin (Ph. Eur.)
purity
identity
host-cell DNA
protein content
Documentation
certificate of analysis (batch-specific)
drug master file cross reference (on request)
production sheet (on request)
product data sheet (as download)
material safety data sheet (on request)
Storage and Stability:
-20°C or below. Avoid repeated freeze-thaw cycles.
Minimum 6 months from date of shipping.
Store lyophilized cytokine at-20C to-80C.
Store a 100 ug/ml reconstituted cytokine solution:
4 weeks at 2C to 8C under sterile conditions after reconstitution. Store in the original container.

4 months at-20C to-80C under sterile conditions after reconstitution. Store in 80 ul aliquots in polypropylene cryogenic vials.
Avoid repeated freeze/thaw cycles.
Application:
Intended Use
for clinical ex vivo use
not intended for human in vivo application
Activity
2x107-8x107 IU/mg calibrated with the 1st International Standard NIBSC,# 88/786.Measured in a cell cytotoxicity assay using a murine factor-sensitive cell line, L-929, in the presence of the metabolic inhibitor actinomycin D (Bharat B.B., Methods Enzymol. 116, 1985, 441-448) .
Dissolution:
Recommend dissolved to store concentration with sterile water (or PBS), add 200ml water to reach the concentration at 250μl/ml is a good idea.
Dilution:
Proposal to diluted with CellGenix®Serum free Media. And please add carrier protein when diluted with sterilewater or PBS, wich prevent product degradation.
Product Literature:
Technical support
There are questions about
GMP rHu TNF-α
? Click the link below to enter the FAQ, supporting documents, or directly to Contact Us After-sale Service Manual for you to answer your question.