Preclinical rHu GM-CSF
CellGenix

Brand:

1412-050

Cat No:

50μg

Size:
Add To Cart Quantity: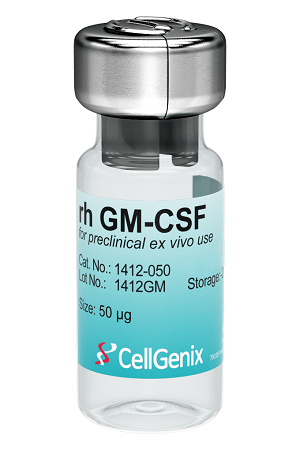 Already early in preclinical stages it is important to use material of defined and documented quality which allows for an easy and seamless switch to clinical phases, where GMP level is required.
CellGenix®
Preclinical Cytokines show the major product and process properties of
CellGenix®

GMP Cytokines
. This gives you an early advantage to our know-how.
Description:
Preclinical Grade Cytokines for Preclinical Ex Vivo Use
Advantages:
High-Quality Preclinical Cytokines
safety, reliability, high performance
designed for cost-effective, preclinical research
animal-derived component free production in

E. coli
Quality controls include
activity
sterility
endotoxin
purity
identity
Documentation
certificate of analysis (batch-specific)
product data sheet (as download)
material safety data sheet (on request)
Storage and Stability:
-20°C or below. Avoid repeated freeze-thaw cycles.
Minimum 6 months from date of shipping.
Store lyophilized cytokine at-20C to-80C.
Store a 100 ug/ml reconstituted cytokine solution:
4 weeks at 2C to 8C under sterile conditions after reconstitution. Store in the original container.

4 months at-20C to-80C under sterile conditions after reconstitution. Store in 80 ul aliquots in polypropylene cryogenic vials.
Avoid repeated freeze/thaw cycles.
Application:
Intended Use
for preclinical ex vivo use
not intended for therapeutic use
Activity
≥ 8x106 IU/mg calibrated with the 1st International Standard NIBSC, # 88/646
Measured in a cell proliferation assay using a human factor-dependent cell line, TF-1
Dissolution:
Recommend dissolved to store concentration with sterile water (or PBS), add 200ml water to reach the concentration at 250μl/ml is a good idea.
Dilution:
Proposal to diluted with CellGenix® Serum free Media. And please add carrier protein when diluted with sterilewater or PBS, wich prevent product degradation.
Product Literature:
Technical support
There are questions about
Preclinical rHu GM-CSF
? Click the link below to enter the FAQ, supporting documents, or directly to Contact Us After-sale Service Manual for you to answer your question.