SCGM Medium
CellGenix

Brand:

20902-0500

Cat No:

500ml(bag)

Size:
Add To Cart Quantity: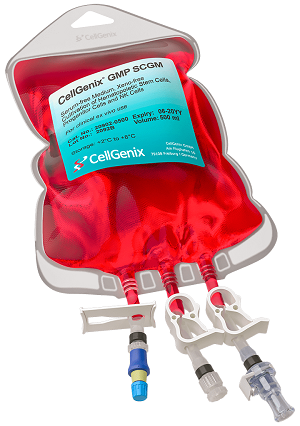 Serum-free and xeno-free medium for the expansion of hematopoietic stem and progenitor cell as well as for NK-cell culture. The medium is also suited for the generation of retroviral and lentiviral vector producing cells.
Description:
In culture bag.Serum free midia,for NK cell expassion and hematopoietic stem cell culture.
Advantages:
High-quality CellGenix®GMP media are the basis for successful cell processing and play a pivotal role in the standardization of your cell culture. CellGenix® Media are serum-free defined formulations optimized for ex vivo culture and expansion of various cell types:
serum-free: for optimized cell cultures no substitution with autologous plasma or FCS necessary
safety: human derived or human recombinant proteins only
reproducibility: the formulations are defined and standardized
quality: batch-to-batch quality control and release testing
high-performance: recommended on the basis of successful in-house and customer data
Documentation:
certificate of analysis (batch-specific)
product data sheet (as download)
drug master file cross reference (on request)
Working for more than 15 years in the field, our media are optimized and validated worldwide in state-of-the-art protocols and clinical settings.
References
CellGenix®products have been used in a variety of settings and many clinical trials throughout the world. Please do not hesitate to contact our customer service team for an up-to-date reference list
Storage and Stability:
2-8℃

Application:
Product Literature:
Technical support
There are questions about
SCGM Medium
? Click the link below to enter the FAQ, supporting documents, or directly to Contact Us After-sale Service Manual for you to answer your question.